Installation, junges Publikum, Theater
Stadtbären
Eine immersive Performance für Publikum aller Altersgruppen!
Der Verein für Schutz und Pflege der Stadtbären lädt Sie ein, das Leben zweier Jungtiere aus der Nähe zu betrachten und viele spannende Informationen über diese erst kürzlich entdeckte Tierart in einem interaktiven Umfeld zu erleben. Stadtbären sind durchaus friedfertige und kooperationsbereite Tiere, die sich in erstaunlicher Geschwindigkeit an unsere Gewohnheiten und urbanen Lebensraum angepasst haben. Dennoch fristen sie bis heute ein Schattendasein und werden immer wieder von unwissenden Laien in die Natur zurückgedrängt. Bei unseren Fütterungen können Sie mit den Tieren in direkten Kontakt treten und ihre faszinierenden Rituale beobachten. Von unserem Stadtbärenpfleger erfahren Sie alles über die Fressgewohnheiten und Aufzucht der Jungtiere, Work-Life Balance der Bären, sowie Anekdoten aus dem Alltag unserer Tiere.
Retten Sie die Stadtbären! Werden Sie Pate!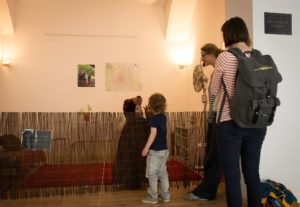 Über die Behauptung einer kürzlich entdeckten, bedrohten Tierart stellen Klara Rabl und Marc Carnal die Nature VS Nurture-Debatte auf den Kopf und schaffen augenzwinkernd einen Raum der Begegnung mit einer neuen fiktiven Spezies.
Bären, die sich menschliches Verhalten aneignen sind Thema vieler Geschichten und Romane wie Paddington, The Bear that wasn't und The Bear That went over the Mountain. Diese Geschichten waren Inspiration und Grundlage für diese experimentelle Performance. Als Vermittler zwischen den Bären in ihrer Behausung und dem Publikum tritt der Bärenpfleger in Aktion und weiß in jeder Situation Rat. Eine Performance, die die Überlegenheit der Menschen über die Tierwelt infrage stellt.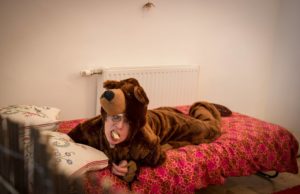 Idee, Konzept:
Klara Rabl, Marc Carnal
Performance:
Klara Rabl, Marc Carnal, Stefan Ceska
Fotos:
Fidelis Hochstetter